Slide 1

Security, data privacy and compliance focused

translation.
transcription.
dictation.
file format conversion.
image processing.
Language Studio provides access to artificial intelligence-based services that are usually available only via the cloud while maintaining and an unprecedented level of control and security data.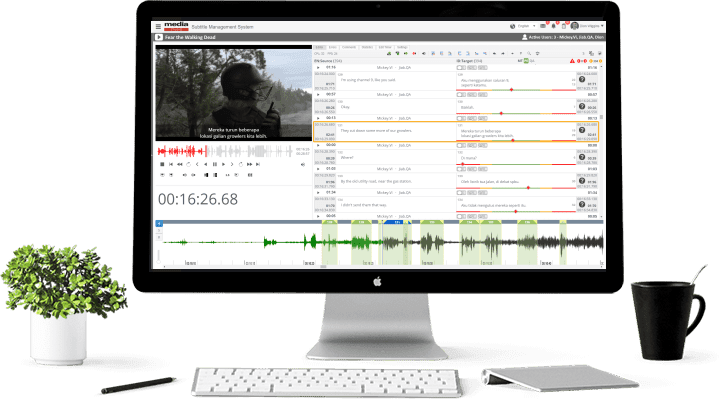 Slide
Translate
Machine Translation (MT) Language Pairs
Transcribe
Autonomous Speech Recognition (ASR) Languages
Recognize
Optical Character Recognition (OCR) Languages
Convert
File and Document Conversion Formats
Process

Document & Natural Language Processing (NLP) Tools
Slide

Transcription, Dictation and
Autonomous Speech Recognition
(ASR)

Image Processing and
Optical Character Recognition
(OCR)
File and Document
Format Conversion
Data Privacy Analysis
and Protection

Hundreds of File, Document and
Natural Language Processing (NLP)
Utilities for Everyday Office Use Cases
Translate 1
Translate documents, data files, and text between languages using the latest state-of-the-art neural machine translation technology.
Translate in 600+ language pairs in real time or batch file mode a wide range of document formats including MS Office, PDF, HTML, images, etc.
Convert Document Format
A powerful, yet simple-to-use tool for converting files. Easily and securely convert file types between more than 80 industry-standard document/file formats.
Formats supported include Microsoft Office, OpenOffice, Adobe PDF, HTML, Images, Spreadsheets, Presentations, Emails, Visio diagrams, Microsoft Project, XML, metafiles and many others.
Optical Character Recognition (OCR)
Optical Character Recognition (OCR)
Using the latest artificial-intelligence-based Optical Character Recognition (OCR) technology, automatically convert documents and images into searchable PDF, Microsoft Word, Microsoft Excel, text files and other formats.
Translate PDF documents and images into other languages, extract tables from images into Excel spreadsheets, and more.
Data Privacy
With the ability to lock, protect, and encrypt sensitive information, this set of tools provides a safe way to share documents with others.
Document anonymization and sanitization ensures that only the intended information within a document can be accessed by authorized users.
Transcribe and Dictate
Powerful transcription and dictation tools that can convert any audio into subtitles, meeting minutes and real-time translations.
Create an email or document by simply speaking into the microphone. Transcribe your presentation or meetings into subtitles and meeting minutes. Record real-time webinar and online meetings with subtitles translated into multiple languages in real-time.