Explore LSE
The world's first On-Premises/Private Cloud solution that brings the most popular AI features of the Web within the control of your own network.
Secure and private - Translation, Voice Recognition, Transcription, Optical Character Recognition (OCR), Document Format Conversion, and Natural Language Processing.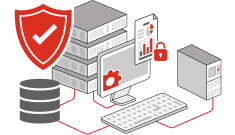 Scalable and Expandable - All portal features as a scalable and power RESTful API. Provide the most advanced AI features from your own secure network and servers.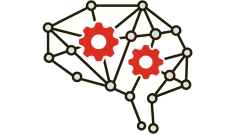 Powerful and Comprehensive - Discover advanced artificial intelligence features expected only from mega-providers such as Google or Microsoft.
Language Studio Enterprise – Overview
Accessing the latest Artificial Intelligence (AI) tools should be
easy.
secure.
multilingual.
integrated.
seamless.
available for everyone.
private.
The first on-premise / private cloud server platform that focuses on data-privacy and compliance while offering the most advanced artificial intelligence powered software, tools and features.
Slide
Translate
Machine Translation (MT) Language Pairs
Transcribe
Autonomous Speech Recognition (ASR) Languages
Recognize
Optical Character Recognition (OCR) Languages
Convert
File and Document Conversion Formats
Process

Document & Natural Language Processing (NLP) Tools
HTML5
Relying on public cloud services may put your
AI-powered tools are needed by modern organizations but not at the cost of data privacy.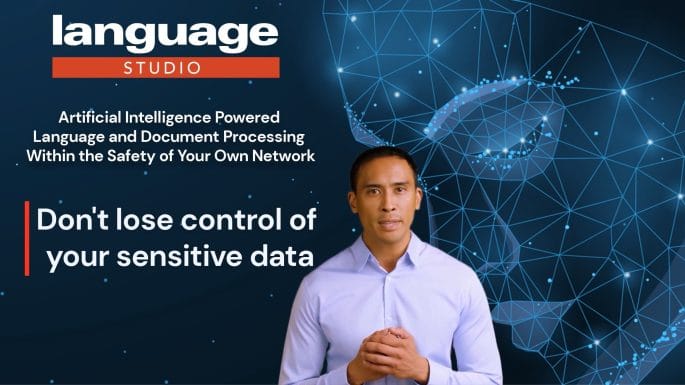 Cutting edge, state-of-the-art artificial intelligence software for language and document processing is now available to every organization within their own secure network.
Language Studio Enterprise is a revolutionary software solution that offers a vast array of powerful technologies and features driven by artificial intelligence via a user experience designed for efficiency and effectiveness. Discover our advanced artificial intelligence features that you would only expect to come from mega-providers such as Google or Microsoft.
Language Studio brings the power of the worlds best artificial intelligence software and tools to within the security and control of your own network. Private and secure artificial intelligence tools are now within the reach of every enterprise.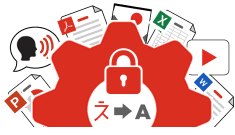 State-Of-The-Art Deep Neural Machine Translation (NMT)
Bring the world's most advanced, secure and adaptable neural machine translation platform right into your organization.
State-of-the-art technology automatically translates documents, text, images and data files in real-time or batch-mode between hundreds of language combinations. Use Omniscien's off-the-shelf domain specific MT engines to start translating immediately, or quickly customize to your own context, writing style and industry using our customization service to create 10's or even 100's of millions of sentences of custom data specific to your organizations requirements.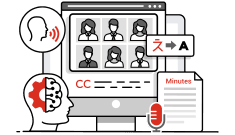 Voice Recognition, Transcription and Dictation (ASR)
Cutting-edge deep neural network technology delivers high-accuracy speech-to-text features across 48 languages. Transcribe and translate live meetings, produce beautifully formatted meeting minutes and transcriptions with custom templates, hold multilingual face-face and online interviews. Autonomous Speech Recognition (ASR) transforms voice to data instantly.
Transcribe and add multilingual subtitles to live and pre-recorded videos and conferencing applications such as Skype, Zoom, Teams, Google Meet, GotoMeeting, WebEx, etc. You can even dictate an email or a document in Microsoft Office.
Optical Character Recognition (OCR)
Unmatched text recognition accuracy capabilities virtually eliminate retyping and reformatting images, scans and Adobe PDF files by converting them into editable files. With support for over 210 languages, output formats include Word, Excel, PowerPoint, CSV, Text, EPub, FB2, DJVU and many more. Combine OCR with machine translation to automatically translate images and PDFs into other languages.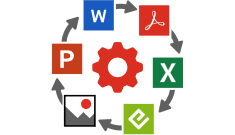 File Format Conversion
Fast conversion between more than 150 document formats including word processing, spreadsheet, presentation, CAD drawings, images, audio, video and other popular file formats.
Simply select the files to convert and the output format, set the desired optional output parameters and click the Convert button. Advanced features include converting between PDF formats, PDF to Microsoft Word, or converting an image-based PDF into searchable PDF with text layers.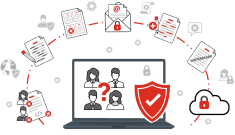 Data Privacy and Sensitive Data Tools
Hundreds of secure easy-to-use web-based tools
for documents, spreadsheets, presentations, images, video and audio that compare, compress, count words, edit, eSign, extract, mail merge, merge, rotate, deskew, filter, resize, analyze files and more.
Enable users to automatically detect the language of documents, extract tables from a PDF file directly into Microsoft Excel, analyze people and organization names and many other advanced artificial intelligence-based features.
Learn more about Data Privacy and Secure File Processing Tools >>
Document Viewers and Players
Eliminate time-consuming and costly maintenance of desktop applications by giving all users ready and secure access to view and play files in their web browser in more than 150+ different formats.
File formats include video and audio, emails, images (JPG, GIF, PNG, BMP, TIFF, etc.), document formats (EPub, Microsoft Word, Adobe PDF, Open Office, etc.), presentations and spreadsheets, drawing formats such as AutoCAD, various data formats such as text, XML or JSON, as well as many source code formats such as C, Java, JavaScript and HTML. View document properties and a menu of additional document processing options such as OCR, translation, term extraction, named entity analysis and more.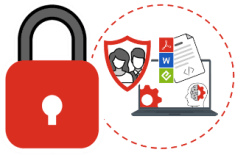 Secure By Design
At Omniscien, all our products are built on a foundation of data security. Our products are shipped as Docker containers with CIS (https://www.cisecurity.org) hardened operating systems. Every element of storage and communication addresses the need for security around your personal and sensitive data and heavily utilizes data encryption. While processing, files are stored with 256-bit AES encryption and destroyed after download using the US Department of Defense 5220.22-M data shredding standard.
All communications in transit to and from the server are SSL/TLS encrypted, encrypted at rest with 256 bit AES encryption, and authentication of authorized users and data access is enforced and controlled by direct integration with a trusted LDAP / OAUTH2 / SAML 2.0 / Kerberos source with single sign-on (SSO) support. And of course, most importantly, data never leaves the boundaries of your organizational control, so you can more easily protect personal data and avoid third-party data collection and data breaches.
Editions and Deployment Models
Your content and data are important and deserve a high level of security and privacy.
Omniscien understands that organizations need continuous, secure and compliant access to business-critical data and applications. Choose from three different secure deployment models that align with your specific deployment use case based on data residency, availability, security, and compliance requirements.
Designed for organizations that don't want to host their own infrastructure.
Perfect for lighter loads, Language Service Providers (LSPs), occasional/ad hoc processing users and users that want a full Software-as-a-Service (SaaS) machine translation and language processing platform.
A secure cloud environment with a vast array of off-the-shelf industry and custom-built machine translation engines, and document/language processing features.
REST APIs for application integration
Multi-tenant hosting on shared infrastructure hosted in Omniscien's EU data center.

Enterprise
On-Premises & Private Cloud
Designed for enterprises with secure
high-performance centralized or distributed server-based language processing and machine translation needs.
Focused on GDPR and similar compliance at an enterprise level. All servers run within your own network, giving you total control. Traffic never leaves your network.
Capable of five-nines availability and fault tolerance.
REST APIs for application integration.
Extensive Language/Document processing compliance features.
Scalable from 50,000 to hundreds of millions of words per minute translation. All features are designed to scale to enterprise levels.
Deploy on AWS, Google Cloud, Microsoft Azure or similar. You determine the host and region based on your compliance needs.
Optional management service provided by Omniscien.

Also available as private managed server hosting.
Managed by Omniscien, dedicated exclusively to your organization.

Local
Offline Laptop or Desktop
Designed for in-the-field use cases such as law enforcement, field medical staff, military, and remote stations.
High-performance real-time translation and document processing is needed on a local device.
Fully self-contained on a regular personal computer without an Internet connection.
Bluetooth and wireless APIs for nearby mobile phone/tablet access.
Translates documents, images, photos and voice instantly.
Frequently
Asked
Questions
What is the main purpose of Language Studio Enterprise?
Language Studio Enteprise brings the power of start-of-the-art, secure artificial intelligence tools to within the control of your organizations network. This stops inadvertent data leakages and assists in compliance enforcement.
Is your machine translation like Google Translate, Microsoft Translator, or DeepL?
Yes and No. While we offer the same basic translations, we provide options for significantly higher quality machine translation as well as high-performance translation that is faster than all of the above. But the most important difference is that the translation system runs within your own organizations network protecting your data privacy at all times.
You can learn more about Data Privacy and Complaince here.
You can learn more about machine translation in Language Studio here.
Is your technology really state-of-the-art? How do you keep up with mega companies like Google and Microsoft?
Yes, our technology is state-of-the-art. Our team of experts are recognized globally for the contributions to artificial intelligence. In fact, our Chief Scientist, Professor Philipp Koehn even wrote the book (quite litterally) that is used to teach neural machine translation and statistical machine translation in universities around the world. Learn more here.